Regina Ruiz | @reginasmd  Unless you've been living in a cave for the last few years, it has become blatantly obvious that social media giants like Facebook, Twitter, and Pinterest have taken the digital world by storm. Not to mention new emergent social media platforms which serve as multi-functional promotional tools for video, picture, and even music sharing.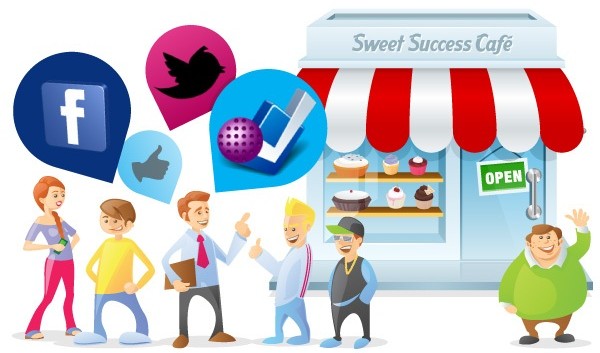 Needless to say the social media revolution is in full swing and the majority of well-known firms have already hopped on the bandwagon. However, mom and pops, which include an assortment of startups to small businesses, seem to be among the most reluctant of businesses to remodel their marketing strategy. Yet, small businesses are an integral part of the business economy and in order to remain not only relevant but to expand in our currently shifting business landscape, social media adoption is a must.
Although the idea of restructuring marketing strategies and adopting new practices may seem a bit overwhelming or intimidating, presently, social media has proven extremely fruitful for small businesses. Not convinced yet? Here are 3 reasons why you will thrive from digital marketing:
1)   Generate More Traffic:
Whether you consider Facebook, Twitter, LinkedIn or Google+, these media giants are the equivalent of promotional Holy Grail.
72% of small business that adopted a social media platform found that their traffic, both virtual and physical, increased.
The reason for this is simple, social media platforms widen your reach through the use of different channels that in turn result in a larger audience. From viral marketing to simply keeping an interactional relationship with users, social media has surpassed conventional marketing efforts with a rating of 65% effectiveness. A vital part of succeeding in the current market is staying current, and through constant innovation, the social media revolution is for businesses of all shapes and sizes.
2)   Virtual Word of Mouth:
One of the best roads to success for any business is word of mouth. Traditionally, word of mouth consisted literally of friends recommending firms to one another. Yet, social media takes word of mouth for mom and pops ten steps further.
The entire process of word of mouth for small business has been put into overdrive with media-platforms such as twitter and Facebook causing marketing campaigns to go viral and allowing for users to review and voice their thoughts instantaneously and accessibly. Innovative features such as Facebook Graph Search are revolutionizing the way consumers search for anything from a restaurant for a date night to a new hairstylist. What is more trustworthy than a friend's opinion? Social media creates a stockpile of available information for consumers to really become familiar with a business.
However, most importantly, a business-owner can easily view user reviews and feedback to improve or change aspects of their business offerings. Traditional marketing efforts simply don't cover all the bases of promotion anymore.
3)   Create a Personality for Your Firm
Lastly, who better to create a brand image than the firm itself? Through social media consumers can gain a more accurate and personal understanding of a firm. Multi-purpose social media platforms such as Instagram and Pinterest are useful for broadcasting daily culture, or for interacting and building relationships with users.
Not only can you have a friendly conversation with users but you can also keep them visually motivated by promoting new products and promotions. These are only a handful of the ways social media can be useful for small businesses. Add one of the aforementioned social media platforms to your portfolio and get ahead on the social media curve.