What IS Halloween all about? The Social Media Delivered staff has picked their favorite scary, spooky, and fun Halloween features around the web to share.  We've got everything from social media pumpkin carving to candy, to what's really scary about your company's social  media policy.  Enjoy! Costumes (from: @sea6789) Halloween is a holiday known for its creativity. Costumes, decorations, haunted houses- they are all up to your imagination, but it doesn't stop there. These social media campaigns took the haunted holiday to a new level.
Haunted Houses (from: @the_jamielynn) Around this time of the year, there are always those videos that go around...you know the kind...they start out harmless and out of nowhere - BOOM! - there's some creepy girl screaming at you through your computer monitor and you're half way between having a heart attack and peeing your pants. Don't worry. This is not one of those videos (or is it?) It is, however, a video of one of the most amazing Halloween houses I've ever seen. No, not the haunted kind. Enjoy!
[youtube]http://www.youtube.com/watch?v=UfcNoMnKjrY[/youtube]
Scary Movies (from: @mogossett) So some of us just like to stay in on Halloween, but instead of doing it alone, grab a bunch of friends and have a night full of scary movies while stuffing yourself with candy and popcorn. So here are some movies that will hopefully make you and your friends scream in horror, get your heart racing and make you cringe in anticipation. Some are old classics mixed in with the new, so enjoy the horror of Halloween by screaming your lungs out.
Spooky Noises (from: @juliedlamb) You can wear a costume, eat candy, and carve pumpkins, but no Halloween is complete without the right sound. To get you started, here are some of the best songs from your favorite childhood movies filled with witches, ghosts and of course everyone's favorite creepy family. What other songs would you add to this list?
Zombies (from: @rosalynchoo) Flash Mobs- ever seen one live? Ever seen a zombie mob? Zombies dance to Michael Jackson's Thriller in the street. Be careful, if a zombie bites you, there's no turning back. Muahahah
[youtube]http://www.youtube.com/watch?v=7A5js_CX3SU[/youtube]
Pumpkin Carving (from: @craigasimons) Most of us think about dressing up and trick or treating.  Another obvious choice is the pumpkin carvings.  If you're like the rest of us, you want to be individual and come up with something different.  Why not incorporate your love for all things techie/social media into your pumpkin carving?  Here is what some have done, what do you think you might come up with?
Candy, Candy, Candy! (from: @jia_thomas) Candy is king on Halloween and Americans buy 600 million pounds of it each year for the spooky holiday. In between bites of your favorite candies, impress your friends and family with these sweet Halloween candy facts.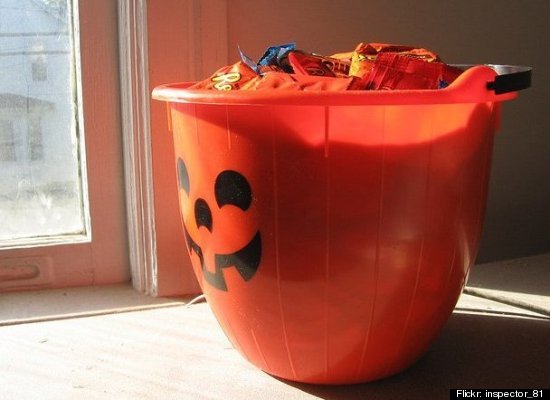 Frightening Social Media Mistakes (from: @merdar) There is little to be scared about when it comes to social media. The pretty blue colors and tweety birds are probably the last thing to make your hair stick up straight. You may not have to sleep with the lights on, but there are plenty of mistakes businesses make that can be described as frightening. And unlike at Halloween, these scary mistakes are made year-round.